About Us
Activities
Tony Sky Designs at New York Build 2019
Antoine Faddoul, Director of Tony Sky Designs Group, gave a presentation on Time Management Strategies for Critical Contemporary Projects at the 2019 New York Build. The session was featured in Crayon HQ's article (https://www.crayonhq.com/blog/new-york-build-looks-into-the-future-proptech-among-highlights).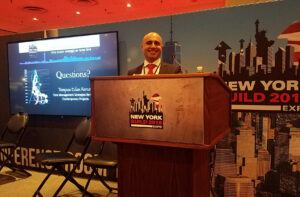 Preview
Antoine caught the audience's attention with the Latin phrase Tempus edax rerum. Translating to "time consumes everything", this speaker emphasized the importance of planning, and how it has been that way since ancient times for projects ranging from the mundane to those on the empire-scale. Read full article
---
Our Approach
From restoring ancient buildings on the Mediterranean to developing healthcare projects in Florida, and from building military installation in the Middle East to managing construction New York City, the development, design, and construction disciplines have been being handled with utmost attention and time saving manner.